Whether you and your best friend are familiar with Brightcare Animal Neurology or if you are new, welcome! Our team of experienced professionals are dog lovers at heart; we do what we do because we couldn't imagine a world without pups. Now, usually, we would talk about one of our services or treatments or even give you tips on how to take the best possible care of the "good boy" or "good girl" in your life, but today we want to talk about the importance of outdoor activities with your pet. 
Participating in outdoor activities with dogs improves human-canine bonding and boosts physical, mental, and emotional wellbeing. These activities may be worthwhile just because they are an enjoyable way to spend time with your dog and these advantages. On the other hand, outdoor activities with dogs frequently necessitate planning. Depending on the activity, different equipment and items are required to make an expedition successful and enjoyable. On the other hand, you and your dog may benefit from spending time together in the great outdoors if you plan.
Getting Ready for Outdoor Activities
Before jumping into the fun and suggesting some of the best beaches you can visit with Fido, let's look at some important things you need to know beforehand.
Socialization and Training
You and your dog may contact other people and animals while participating in outdoor activities. Basic commands like "come," "sit," and "stay" should be properly taught to your dog. Making sure your dog is comfortable around unexpected people and dogs will help ensure that chance meetings go smoothly. Your dog will be less likely to experience fear or discomfort in new situations.
Vaccinations
A trip to the park could expose your pet to sickness or parasites. "To protect your dog from transferrable diseases, make sure he has all of his immunizations," advises Deidre Grieves in Dog Park Safety. Check with your veterinarian to make sure you're up to date on all routine vaccines, and inquire about any additional shots they may recommend, especially if you're going to a place where there are significant health hazards.
Keep an eye on your dog
Keep a close eye on your dog, especially if they contact other dogs. Even nonviolent interactions aren't always positive: some dogs are aggressive and frightening, so be sure your dog isn't one of them.
Identification and Microchips
Always keep up-to-date information on your dog's collar and ask your veterinarian about microchipping if they run away or go missing.
Other Items You Can't Leave Behind
A sturdy leash

Freshwater to help your dog stay cool and hydrated

Treats to gain your dog's attention and reward good behavior

Waste baggies

Travel wipes to clean mud off your dog's paws or coat

Dog sunscreen

A first-aid kit
Alright, we have covered the basics, it's time to get to the fun!
As promised, read below for the best beaches in Orange County to enjoy with your best friend.
Dog-Friendly Beaches in Orange County
Orange County is one of the best places to live for dog owners because it has many dog-friendly restaurants and destinations. It is also known for its abundance of dog-friendly beaches that stretch all the way from San Clemente to Huntington Beach.
San Clemente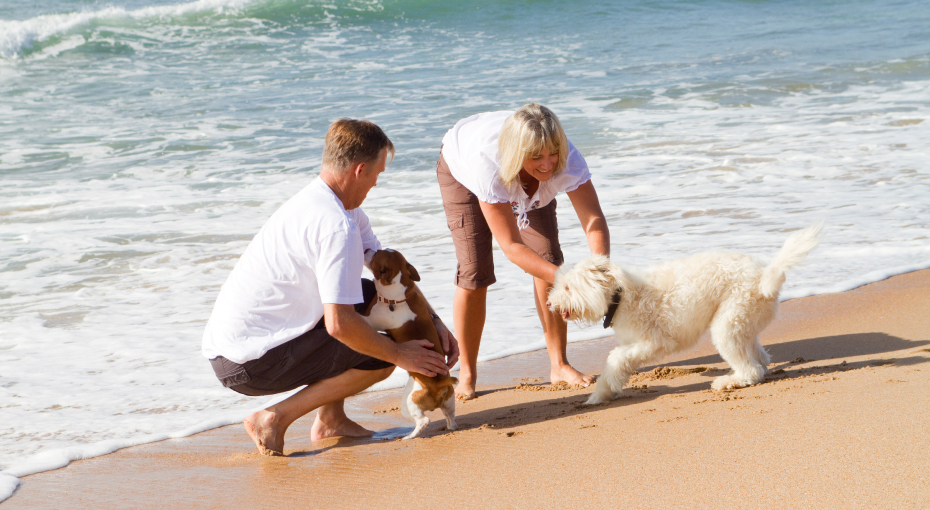 Although San Clemente is a little out of the way from Orange County, it is only a short drive away and is truly worth it for our furry friends! The two beaches that dogs are allowed at in San Clemente are Bluffs Beach and San Onofre State Beach. Bluffs Beach has six different hiking trails that lead down to the beach, but dogs are allowed only on beach one and beach six. Remember to keep your dog on a leash at all times while visiting!
Laguna Beach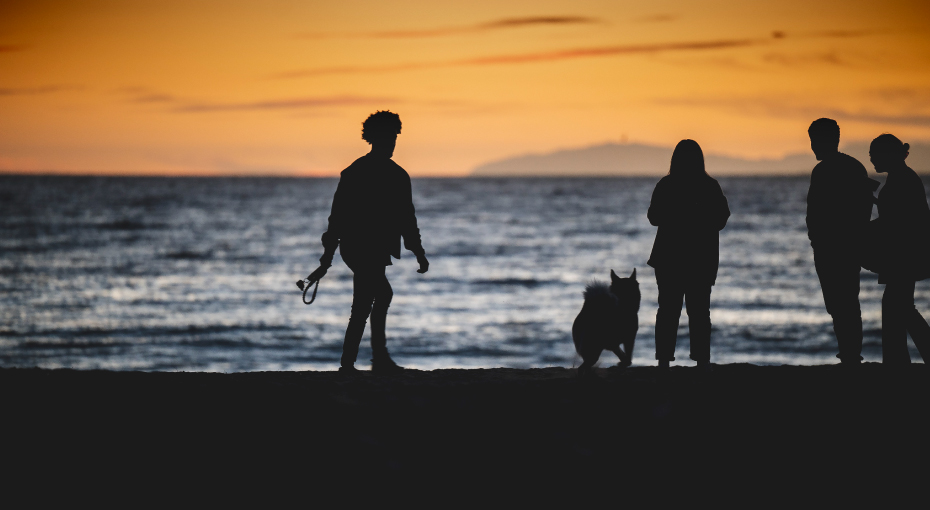 Almost all beaches in Laguna are available to dogs as long as they are kept on a leash. During the Summer months of June through September, dogs are not allowed on the beach from 9 AM to 6 PM during the peak hours of visitation. Outside of these months, dogs are allowed all day! The only beaches that dogs are not allowed on are Thousand Steps, Totuava, and Crystal Cove.
Newport Beach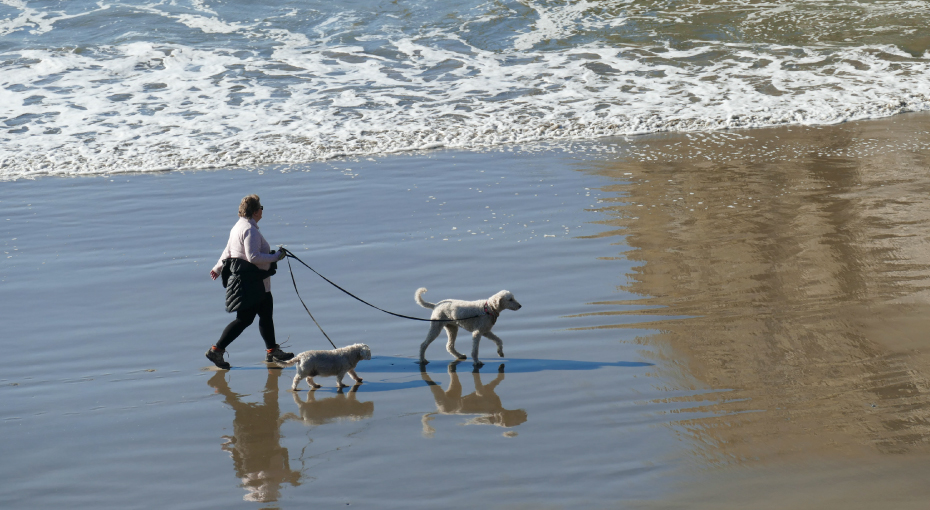 Similar to the rules of Laguna Beach, almost all beaches in Newport allow dogs as long as they follow the same regulations. In Newport, dogs are not allowed on any beaches from the hours of 10 AM until 4:30 PM year-round. During these hours, be sure to keep your dog on a leash to abide by the rules.
Huntington Beach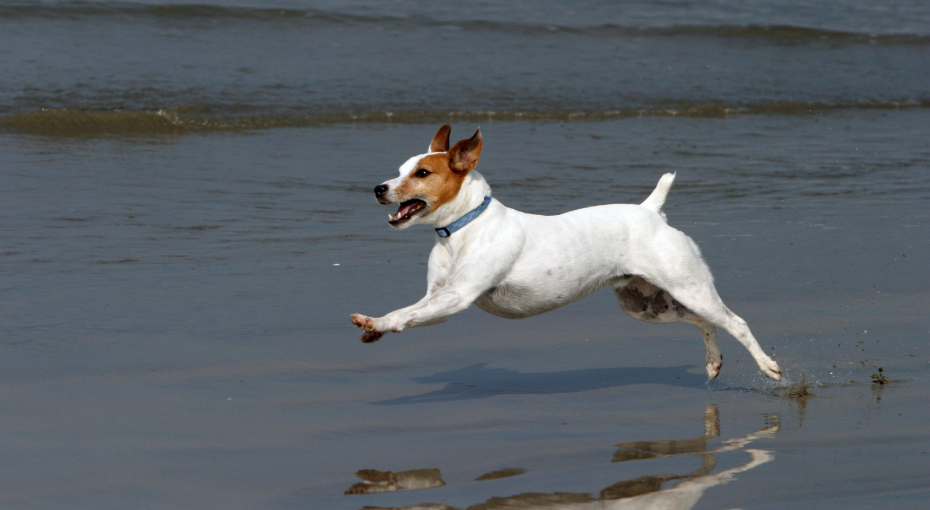 This city is the most dog friendly of them all and has a dedicated off-leash dog beach! It is called the Huntington Dog Beach located just off of Seaport Street and 21st Street. This is the only dog-friendly beach in the city, so be sure to take your furry friend here and let him roam freely!
If you have any questions about your pets, feel free to give us a call at 949-716-9270 or request an appointment here!