Finding a dog neurologist in Mission Viejo does not have to be a hard task. Luckily, our Brightcare Veterinary Group is conveniently located in Mission Viejo for Southern California residents. If you have a dog or are thinking about getting a dog, you should be aware of the services located near you that will help not only maintain your pet's healthy life but save it if something were to happen to them. Finding a dog neurologist in Mission Viejo is extremely important for a handful of reasons. We want to provide you with information that we think you will find beneficial.
First, we want to start by explaining what a dog neurologist in Mission Viejo does. Understanding this field of work is critical to understanding how your pet functions and what can happen to your pet if they experience an accident or illness. A dog neurologist is a specialized field of work that focuses on the conditions that affect your dog's muscles, nerves, brain, and spinal cord. It takes extensive schooling after veterinary school to become a veterinary neurologist, and they must be board-certified to be able to practice in their state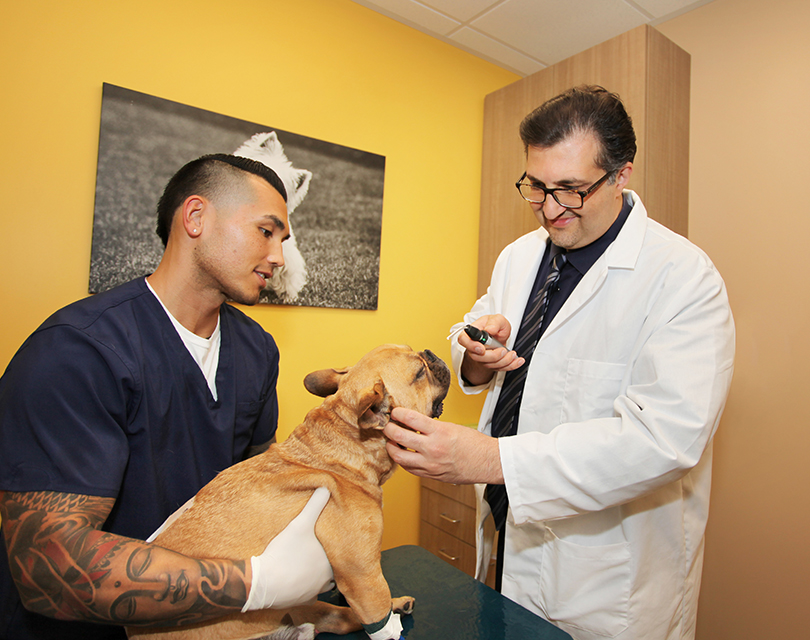 Are neurologists the same as a neurosurgeon?
Although a dog neurologist practices in the same field, dog neurology in Mission Viejo requires further education and training, both professions must understand how the neurological system works in dogs. Still, a neurosurgeon must take the extra step needed to be able to perform surgery. To become a neurosurgeon, three years of a neurosurgery residency is required along with a neurosurgeon education and training. At our Brightcare Veterinary Group facility, we have a dog neurologist and a dog neurosurgeon in Mission Viejo.
Can a dog neurologist be expensive to see?
A dog neurologist cost in Mission Viejo can vary depending on the needs of your pet. An office visit alone can be anywhere from fifty dollars to one hundred dollars. With that pricing, you will meet with the neurologist, and they will perform an examination on your pet. If they feel that other testing is needed, then additional costs will be included. Further testing could be related to needing advanced imaging to running diagnostics like ultrasound, radiography, MRI, biopsies, and CT scans.
If your pet only needs to be seen once or twice, then the cost will not be extremely high, but it will be reasonably costly, depending on the tests needed. If your pet has to be seen frequently and has to get testing done continually, it can become fairly pricey. We recommend looking into pet insurance if you are worried about the dog neurologist cost in Mission Viejo.
Knowing what a dog neurologist does and where they are located to you can be very beneficial to your pet's overall health. If you would like more information regarding our neurologist at Brightcare Veterinary Group or would like to set up an appointment to be seen, please give us a call or check out our website. We are continually adding new information about our practice and writing blogs for our patients located in Mission Viejo.