We are proudly the first and only veterinary center serving Corona to specialize in neurology and imaging for small animals. Our state-of-the-art facility provides everything patients need to receive quality care right here in Orange County.
Rancho Santa Margarita Animal Neurology Center
We are proudly the first and only veterinary center near Rancho Santa Margaritato specialize in neurology and imaging for dogs and cats. Our state-of-the-art facility provides everything patients need to receive quality care right here in Orange County.
Your pet deserves to have the best medical care. That can be hard, though since there are so little resources and information available for complex neurological disorders. Bright Care Animal Neurology and Imaging was opened as a way to remedy this problem. It opened as a veterinary neurological center focused on treating and researching brain, spinal cord, and nervous system complications.
Rancho Santa Margaritato Verterinary Staff
Our staff and veterinary neurologists at Bright Care Animal Neurology prioritize the health and well-being of all our patients. We strive to provide you and your pet with the highest quality care and veterinary experience for them to live a long life. Our facility also offers equipment, technology, and treatment that patients cannot find anywhere else in the Orange County area. 
Located Conveniently Off Marguerite and Oso Pkway
Your pet can receive specialized treatment with a quick drive to our location! Bright Care Animal Neurology & Imaging is just a short drive from Rancho Santa Margarita, CA. Located in Mission Viejo, our animal emergency hospital sits right near the Mission Viejo Country Club and the 5 freeway. You can take the Marguerite Parkway or Felipe Road to Oso Parkway straight down to our veterinary neurology center. 
In case of an emergency, our facility is fully equipped so we can take care of any situation. Our hospital provides all types of advanced equipment such as surgical, diagnostic, monitoring, and anesthetic. Due to our full range of equipment, we can provide your pet with the best medical care possible. Our patients are also provided with medications and blood products as well as a complete surgical suite and intensive care unit. Your pets overall health is our concern; this is why we work alongside the veterinarians in the local area to ensure they receive the urgent care and follow up care they need.
Our 24-hour facility gives pet owners the option to leave their pets with our attentive staff. We understand you may have other responsibilities, so you can leave your pet with us knowing they are getting the best medical care. We want to save you from making too many trips to and from our facility.
Our Vet Neurologist
With over 10 years of experience, Dr. Gorgi has demonstrated his commitment to his work as a highly accomplished neurosurgeon and medical researcher. He has lectured at the International Symposium of Veterinary Surgery, as well as taught as an adjunct professor at the Western University of Medical Sciences.  He has been published in multiple veterinary journals for his research. As a Southern California native, Dr. Gorgi has dedicated his life to expanding veterinary neurology departments throughout West Los Angeles and Orange County. At Bright Care Animal Neurology he aims to promote an environment of learning and establish a progressive, integrative, and compassionate veterinary practice.
Veterinary Neurology Center Serving Rancho Santa Margarita
Our facility is conveniently located in Mission Viejo, so pet owners can get the treatment they need without worry. We know that pets are essential parts of our families; we never want to see animals suffering from treatable illnesses. Neurological conditions can progress quickly without proper management. The services we provide include:
Advanced Imaging: Our facility is equipped with an MRI (Magnetic Resonance Imaging) scanner to identify issues with our patients' brain or spinal cord. We also have a CT (Computer Tomography) Scan to create cross-sectional images of the bones, blood vessels, and soft tissue. 

Stereotactic Neuronavigation: Bright Care Animal Neurology is the first and only veterinary hospital in Irvine and Southern California to provide stereotactic neuronavigation for minimally invasive brain and spinal biopsies.

Neurosurgery: Our veterinary neurosurgeon has successfully operated on animals for years. His expertise includes intervertebral disc surgery, spinal fracture repair, lumbosacral surgery, skull fracture repair, cervical arthroplasty, atlantoaxial stabilization, tumor removals, craniotomy, and more. 

Diagnostics:  Patients undergo thorough neurological examinations and tests for accurate diagnosis and treatment.

Medical Neurology: We provide treatment or management for neurological conditions, such as seizures, strokes, brain tumors, spinal conditions, neuromuscular disease, meningitis, and more. 
To learn more about the neurological disorders we can treat, please head over to our Services page. We provide in-depth, extensive information about our processes and animal neurology. Pet owners can benefit from learning about signs of illness and post-surgery care.
We also have an emergency hospital open 24/7 for animals who suffer from seizures or other sudden neurological symptoms. You can never predict when an emergency is going to happen, but you can count on us to be there when you need a vet neurologist.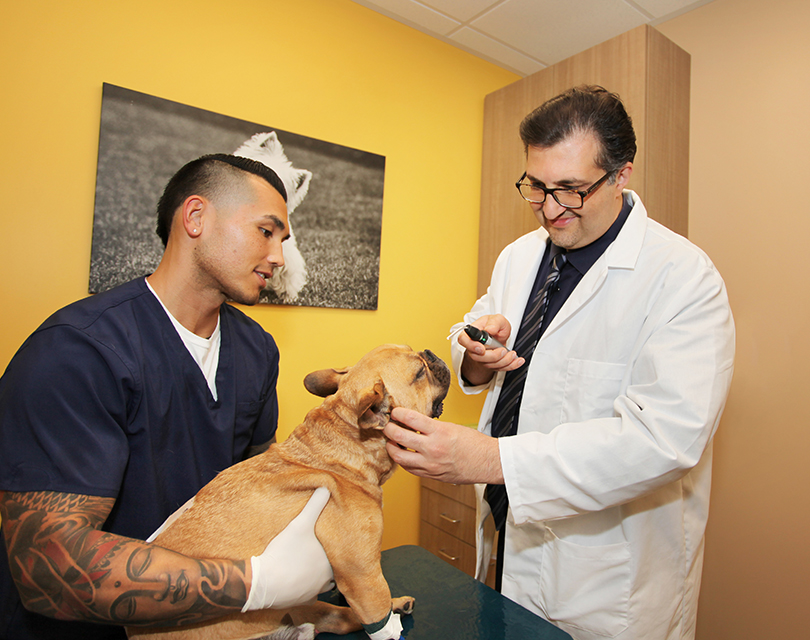 Our Veterinary Staff
Like Dr. Ali, our staff is caring and compassionate with all patients.hey are highly trained in neurosurgery and veterinary neurology and they practice under the supervision of our experienced veterinarians. Every member of our Bright Care team is dedicated to treating patients with kindness and personalized care. Our staff can be trusted to take great care of your pets for the best outcome possible.