As emergencies can happen anytime and anywhere, we always have to be prepared and know what to do, how to behave, and where to go. Brightcare Animal Emergency is your best dog emergency services in Mission Viejo, and we are here to help you in that moment of special need.
Stay calm and assess damage
The first thing to consider when an emergency occurs is to be calmed and assess the damage of the patient. Second, remove any more potential damage off your pet. After making sure your dog is safe, check your dog and make sure you keep your pet calm and warm. If there is trauma, do not attempt to correct anything yourself. Remember we are the best dog emergency services in Mission Viejo, and we are here for you, so bring your dog to us immediately.
Transporting an ill dog
Try to avoid moving the dog tool much, the minimum movement the better. If it is a small dog, you can put the dog in its carriage. To move medium size and/or big dogs into the car you will need a sturdy piece of wood or any other strong material to help you carry the weight of the dog and avoid major damage. Ask for help if needed. Put some blankets underneath your dog and make sure that you will keep the dog warm and calm.
Call your dog emergency veterinary in Mission Viejo & keep calming your dog.
If possible, let us know ASAP that you are coming so we will be ready and waiting for you to treat your doggy immediately. Also, talk to your dog constantly in a calm way. An injured/in pain pet is always under a lot of stress. So even the sweetest and friendly doggies can become aggressive. If needed, restraint your dog.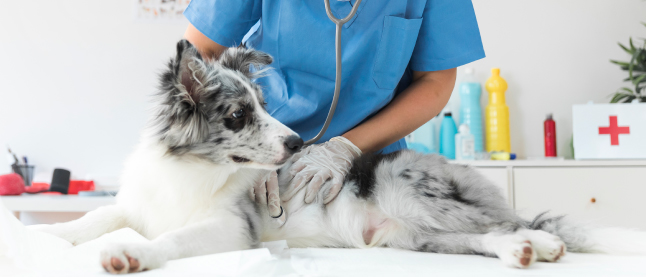 How to restraint an injured aggressive dog
As your dog is under lots of stress, he/she might be disoriented, in pain and even panicking. Your calm, soothing voice and attentiveness at this point are crucial for your dog's mental stability. But if you see that he/she is getting out of control and overly aggressive go ahead and muzzle him/her. This will be difficult for your pet and you but remember that you are doing it for their own health and wellbeing.
If you do not have a muzzle, use a leash, a belt, a rope, or any other material that can keep them breathing but unable to bite anyone.
Dog Emergency Hospital in Mission Viejo
Brightcare ER is your dog emergency hospital in Mission Viejo, we have a modern facility with state-of-the-art equipment designed to accurately diagnose injuries and diseases. Our staff caring and compassionate attitude is proof of their experience and expertise and makes us the best dog emergency veterinary in Mission Viejo. Call us right away at (949) 259-6023!
Irvine Community – Veterinary Topics
On the BrightCare blog, we often write about the different counties of South County. For our pet parents in Irvine, we have blogs specifically written for pet resources and fun in the Irvine area!