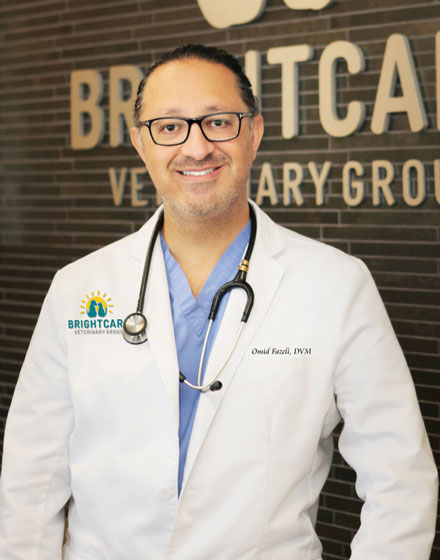 Dr. Fazelis' love for animals began by his veterinarian grandfather, which eventually led him into this noble profession.
He received his DVM diploma (Doctor Of Veterinary Medicine) in 2000. He completed the ECFVG program by American Veterinary Medical Association in 2011.
After graduation, Dr. Fazeli pursed advance training through different programs in critical care medicine, soft tissue and orthopedic surgery, rigid and flexible endoscopy, and small animal dentistry in Canada and the USA. He has since been practicing both emergency and general-type veterinary medicine in various hospitals in different countries (USA, Canada, and UAE) as a hospital owner and associate veterinarian. Dr. Fazeli's keen interest in critical care, feline medicine, surgery, and endoscopy has made him a valuable member of the BrightCare team.
Dr. Fazeli moved to sunny California in 2017 from Canada (Beautiful British Colombia). Dr. Fazeli is an avid guitar player and he spends his free time playing his many instruments (guitar, electric bass, piano and conga drum) and spend time with his cat.